Rely on the industrial cleaning experts for safe and efficient underground cleaning services
Hydro-excavation involves the use of high-pressure water and industrial vacuum equipment in order to safely excavate around utilities and other sensitive underground structures. This excavation method is non-destructive and has the advantage of being effective even in frozen ground. Along with "hydro-vac" equipment, GLPV offers a full line of services related to underground cleaning, such as catch basin cleaning, sewer line jetting, catch basin filter replacement, and a variety of other related services. The hydro-excavation and other underground cleaning services can be performed adjacent to the truck or in hard-to-reach locations, such as a basement, crawlspace, elevator shaft, or other similar spaces, using a remote vacuum hose.

Choose GLPV's hydro-excavation services to minimize the environmental impact of your excavation. This process allows for fast, and precise excavations that require less backfill, less labor, and less overall impact to an area than some conventional digging methods. A controlled-flow water stream allows for a high level of accuracy. Because we remove only material necessary for repair or inspection, minimal material needs to be removed when compared with the large, excavator or back-hoe bucket volumes. The process is also non-destructive, making it safe to perform in the area of electrical, gas, sewer or other buried utilities. Since the vacuumed spoils are conveyed directly into the debris body of the daylighting truck, the excavated material can be hauled offsite for beneficial reuse or recycling, rather than creating a mess on the project site. This also allows the material to be disposed of offsite should contaminates be present in the area of the excavation.

Along with our hydro-excavation service, GLPV offers various services related to underground cleaning:
Hydro-Excavation Services
Storm Sewer Line-Jetting Services
Pond Cleaning and Sludge Removal
Solutions that deliver results
With us as your hydro-excavation service provider, here's what you can expect:
Solutions that deliver results
With us as your hydro-excavation service provider, here's what you can expect:
Whatever underground cleaning service you need, we have the solution.
The experts at GLPV provide an extensive list of specialized hydro-excavation services: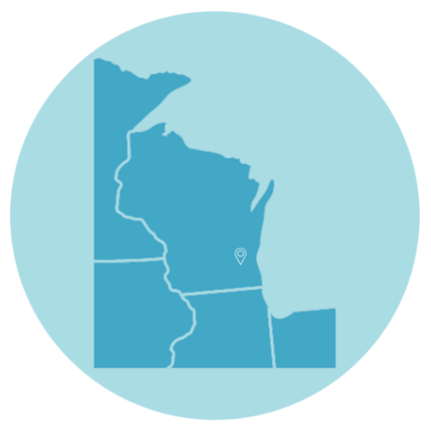 Hydro-Excavation and Underground Service Area
Serving the Midwest from our Pewaukee, Wisconsin headquarters.

All across Wisconsin and including Iowa, Indiana, Minnesota, Michigan, and Illinois, you'll find satisfied clients of ours.
Choosing the right solution for your organization can't wait
Get in touch with us to find out how our hydro-excavation services can add value to your organization.