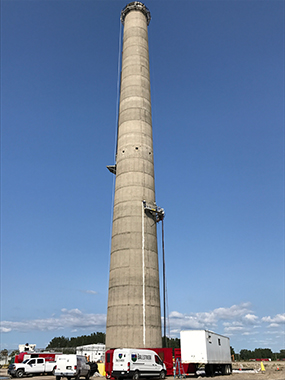 Have you ever wondered how to make a 275′-tall industrial smokestack disappear?
It's called demo work, and GLPV has long participated in this market along with one of our oldest and best customers, Balestrieri Environmental. As you probably know, stack demolition often involves the use of precisely-placed explosives that are detonated to drop a stack in a controlled fashion; however, that is actually one of the last steps in a long and involved process, and in fact, GLPV recently worked on such a project with Balestrieri in Muskegon, MI.
Before the stack could be demolished, environmental hazards needed to be identified and removed. That is where Balestrieri came in. Founded in 1992, Balestrieri Environmental is one of the Midwest's leading asbestos-abatement service contractors. BE&D is a highly sought after contractor, based on their extensive knowledge and experience in the safe removal and remediation of hazardous materials such as lead and asbestos from buildings and structures.
For Balestrieri, the first step in the demo process was the external stack inspection. They used leading-edge technology for this step. They flew remote-controlled drones fitted with state-of-the-art cameras around the stack in order to inspect and map the exterior. Once the condition of the stack had been assessed and documented, they utilized engineered rigging to suspend a combination of repair bracket, swing stage scaffold and access systems to support their personnel as they removed the impacted exterior coatings materials.
High-pressure water blasting equipment was used to strip away the asbestos-containing materials. The slurry formed in the process was sucked into a totally enclosed, vacuum roll-off box, connected to the power blower system of a GLPV Supersucker® vacuum truck. This work proceeded over a period of weeks until, at last, the stack could be dropped into a man-made, water-filled containment used to dampen the fall of thousands of tons of brick and concrete. The process proceeded without a hitch.
Kudos to Balestrieri Environmental Team for your expertise. And thanks for the many years of business association and friendship. Be sure to visit their website to view their list of services and other projects like this one.